Strong brands and distinctive products
A brand is always a promise. We make brands credible and relevant.
Today the modern consumer is trying to choose from an overabundance of brands. The choice is becoming increasingly critical and more fiercely contested than ever. Currently companies have to constantly reinvent themselves and continue to evolve in order to keep up with megatrends. The secret to this is not to lose the core essence.
As an agency for corporate design and branding, we create and develop sustainable and multi-layered brand personalities and create experiences that appeal to customers, engage them and bring them benefits.
As an agency for corporate design and branding, we create individual and timeless aesthetics for companies. Our job is to create comprehensive brand identities for companies, offering a clear vision.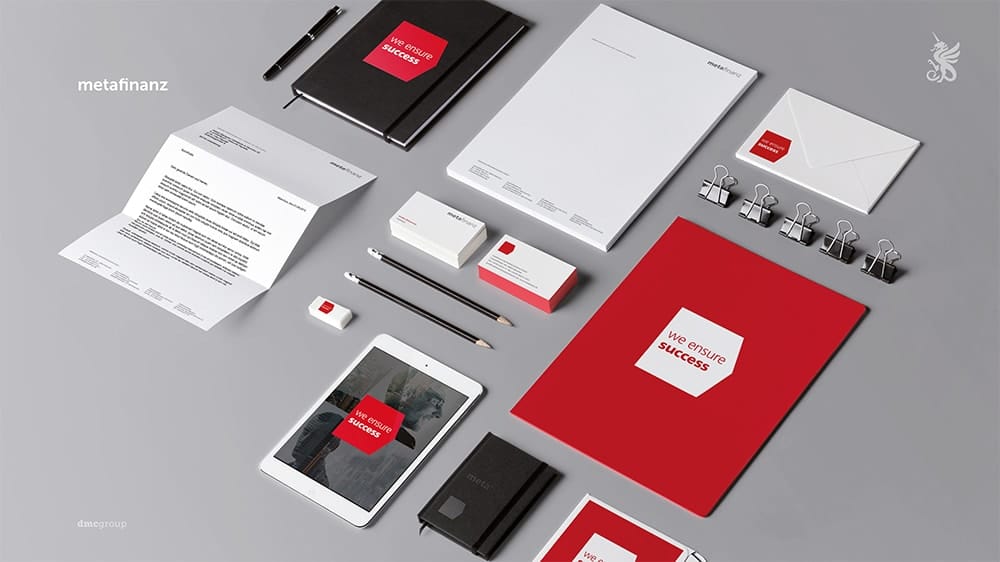 The Corporate Design for Metafinanz
Brand Strategy & Consulting
The underlying strategy of a brand is the foundation for its authenticity and its long-term success. We will help support you in the development and optimisation of your brand strategy and help advise you comprehensively.
Classic & Digital Brand Strategy
Business & Transformation Strategy
Communication Strategy
Brand Design
The brand image is the visible and tangible manifestation of the brand and so brings it's values to life. We can design your brand identity through all media, channels and characteristics.
Corporate Design – Classic and Digital
Corporate Identity
Brand Imagery & Trademarks
Corporate Communication
Corporate Websites
Copywriting & Slogan Development
Branded Content
Service Design
Digital Brand Marketing & Monitoring
The digital staging and presence of a brand and it's message has become essential. We can help you to reinforce your brand message in digital media and ensure that you reach your target groups.
SEO, SEM
Social Media Marketing
Social Media Monitoring
E-Mail Marketing
Note regarding your data: We guarantee that we will not pass on any personal data submitted, to other companies.
In addition, we will only use your data for your requested contact.
You will not receive any promotional material by email.