Games for Innovators, Rulebreakers, and Changemakers
Written by Philipp Brunner
dmcgroup's Gamestorming Retreat-Vienna
It's all about a few (especially for the creative industry) central questions:
How can we stimulate and propagate innovative thinking and idea generation?
What methods are available to let teams find answers to crucial, project-related questions in a short space of time?
How can these teams productively figure out the basics and have a lot of fun as well?
And
How can all of this be achieved easily and at any time?
In the everyday life of a creative agency like the dmcgroup these are crucial questions.  The ability to develop innovative concepts in a short timeframe and also stimulate creative potential, independent of the schedule and tight deadlines, is crucial to success in the industry.
Between 2006 and 2010, two books that tried to approach the issues above in a new way began to circulate, revolutionising innovative practices in the business world.
"Innovation Games" by Luke Hohmann proposes 12 games designed to help reveal hidden customer needs and requirements.
The book "Game Storming" by Dave Gray, Sunni Brown and James Macanufo, presents a collection of more than 80 well-known game ideas and also promotes the idea of using these games specifically as a technique for team brainstorming sessions.
Playing is a way to explore the world that people have been practicing and mastering from an early age. There is a natural learning process in a structured game that allows ideas to be developed, as a by-product, in the process of playing. Playing also creates a better understanding of teamwork.
A Day to Practice Games
A retreat in a creative agency is a creative break – a day a team takes to reflect on how they work and how they collaborate in a fundamental way.
The Gamestorming Retreat Vienna, organized by Michael Lausegger and Clemens Böge on Saturday, April 6, 2013 in the Hub Vienna, had exactly this goal in mind and was categorised as "Team building."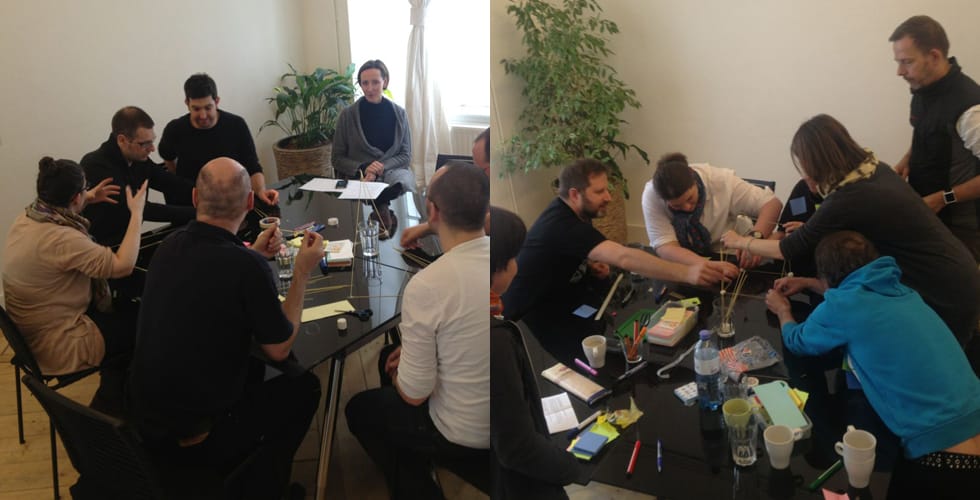 For the two teams of six, the two coaches first presented the basic dramaturgy of the game storming sessions, which the "facilitator" (session leader) conceives and co-ordinates with a set of games:
Open: Games that opens the session, help to relax and introduce the team members.
Explore: This is where the actual creative or team work takes place.
Close: The final session concludes the exploration phase and possibly summarises it.
From noodles to marshmallows and soup circles
Since the retreat fell under the overarching theme of "team building," we played games that put creative collaboration together as a team at the forefront.
For the opening phase the team is loosened-up with a round of introductions.
The spaghetti / marshmallow challenge  to try and achieve unprecedented excellence in constructing noodle towers.
Finishing with the closing phase, we played the game "Circles & Soup" on exercise to retrospectively experience and formulate goals and their feasibility for the team.
dmcgroup's new approach towards complex projects
The dmcgroup has been exploring new innovative brainstorming techniques for some time. As a result, we have started some of our customer projects with Inception Workshops, utilising game-storming techniques to generate ideas and establish a shared project understanding.
Throughout these projects, both the customer and the dmcgroup team realised with astonishment, just how effective and insightful these compact game-storming sessions were. In this way, game-storming techniques have become an established, fixed part of daily work in the dmcgroup.
With this is mind through "Innovative Games" we find that  "Playing Games is Serious Work!"
"Playing Games is Serious Work!"