Concept
Design
Frontend Development
Home loan calculator for Erste Bank and Sparkassen
Together with the savings banks, Erste Bank represents one of the largest banking groups in Austria. It comprises over 1,100 branches in Austria and serves more than 3.4 million customers.
s IT Solutions AT Spardat GmbH is the IT provider of Erste Group and the savings banks in Austria. In addition to providing cost-effective, high-quality services and solutions, s IT supports the harmonization of applications and standards.
dmcgroup was commissioned by s IT to jointly support Erste Bank and Sparkassen in the planning, conception and design as well as (front-end) technical implementation of the new housing loan calculator.
"For me, the collaboration with DMC is characterized by two things: High competence in design, front-end development and user research, coupled with a flexible approach to collaboration that is strongly oriented towards our needs as customers."

Hubert Rosicka

Project Lead | s IT Solutions
"DMC colleagues help us to look at problems from new angles, to critically question approaches to solutions and to break new ground. In this way, an optimal product can be created through joint work."

Sonja Gstettenbauer, Sabine Kargl

Business Analysts | s IT Solutions
"The consistently iterative and user-centric approach that we live by at the agency fell on really fertile ground with this project. We are already looking forward to our further journey together!"

Sabine Kresa

Projekt Development & Consulting | dmcgroup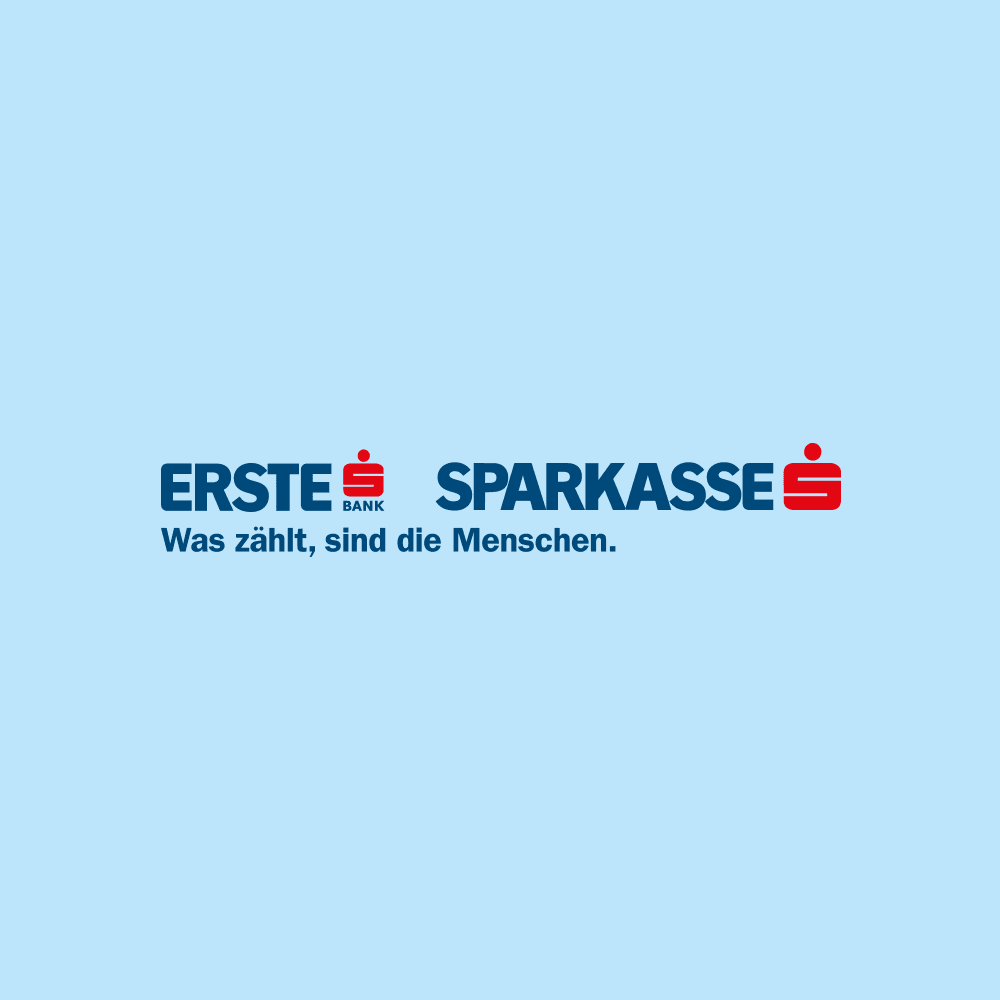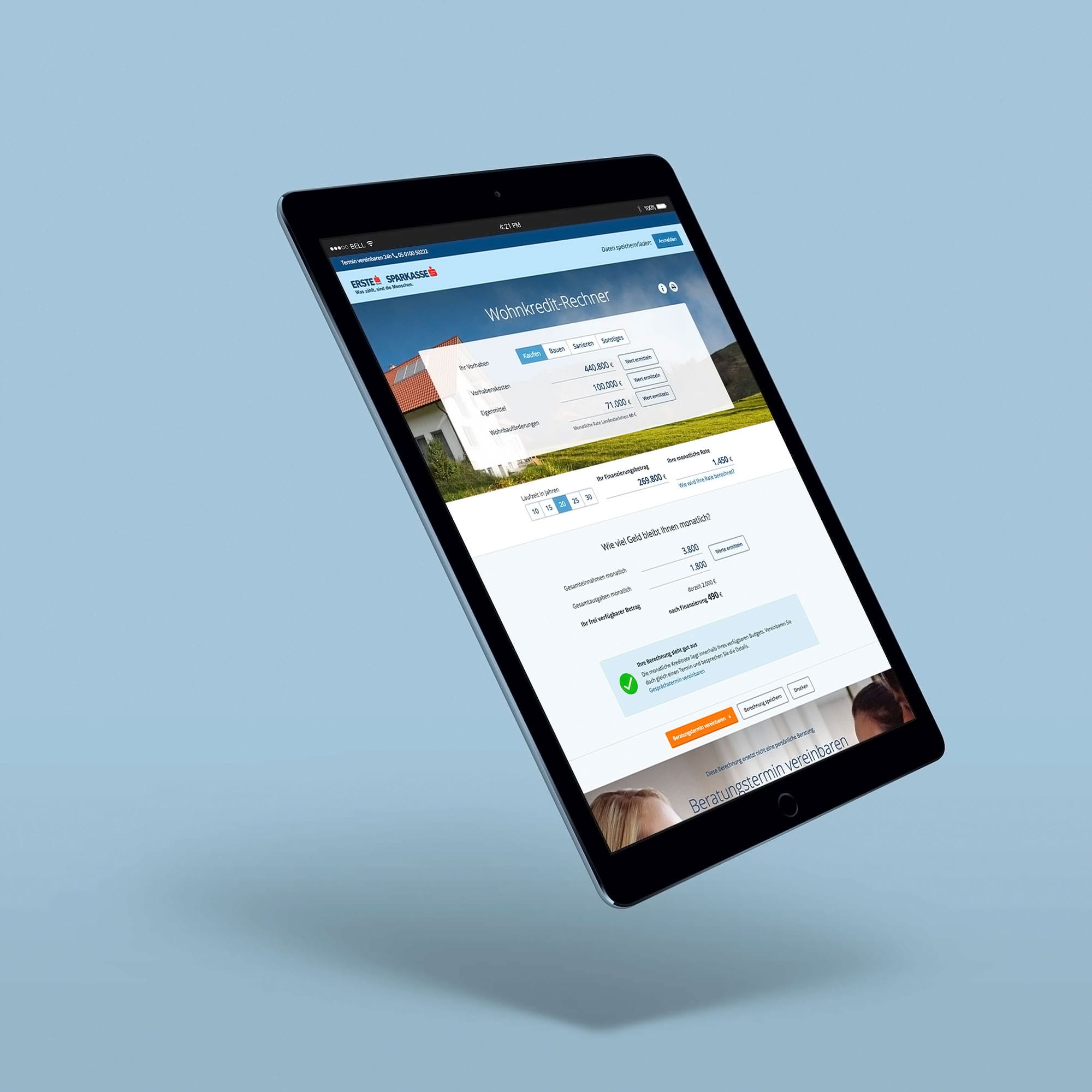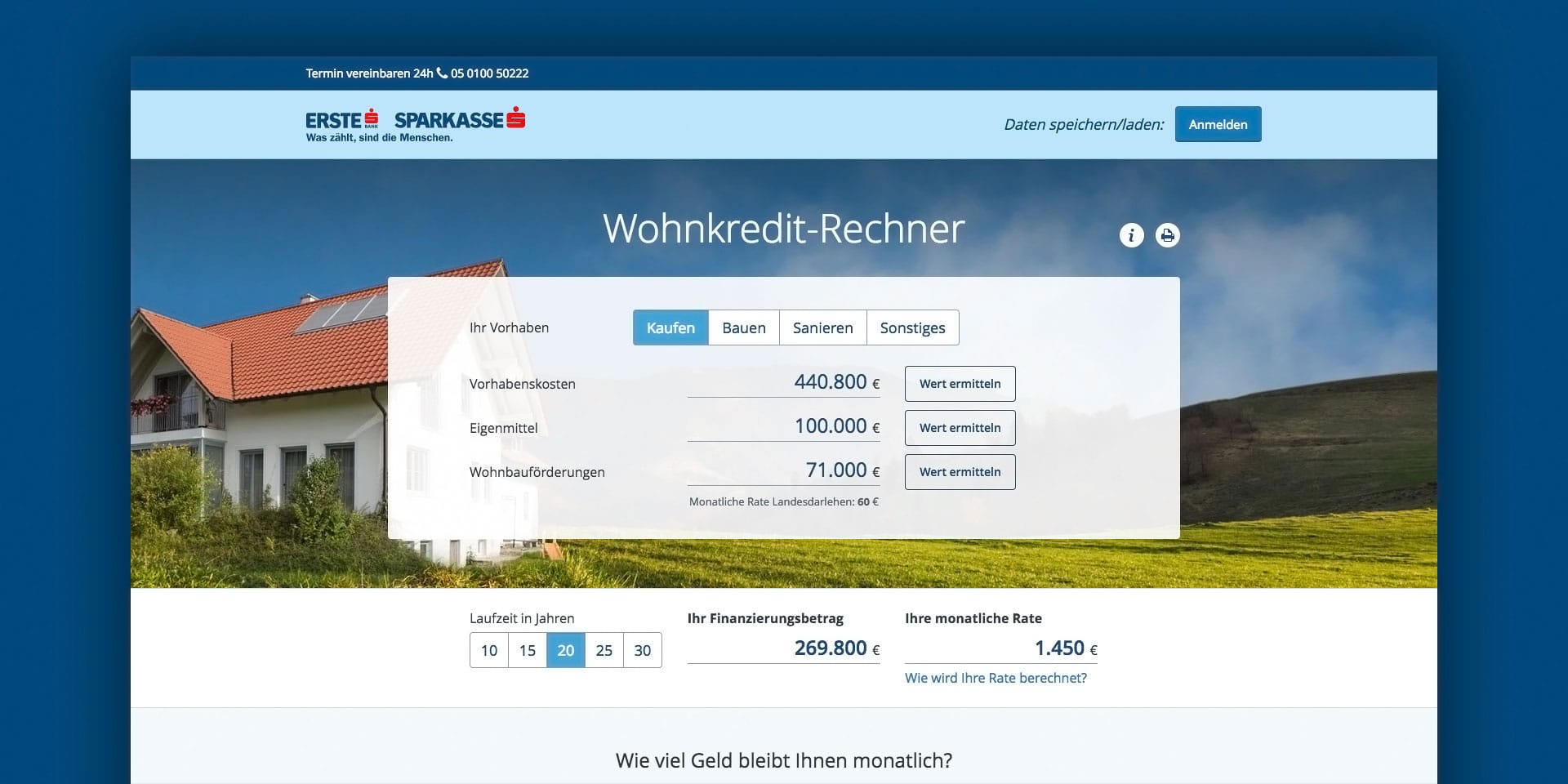 What counts are the people
Financing a dream home is one of the largest and most complex investments people make in their lifetime. This makes it all the more important for the bank to offer potential customers information and advice on the subject as simply and accessibly as possible.
This is reflected in the requirements for the redesign of the calculator:
Self-explanatory & intuitive to use
Quickly get results, "Can I afford this?"
Simple and hurdle-free calculation of a home loan including state-specific subsidies
User activation & lead generation
Can also be used by account managers together with customers
With "design thinking" methods, continuous project support through user research and agile working methods, a joint team of dmcgroup and Erste Bank developed and optimized the project from the first concept sketches to the launch.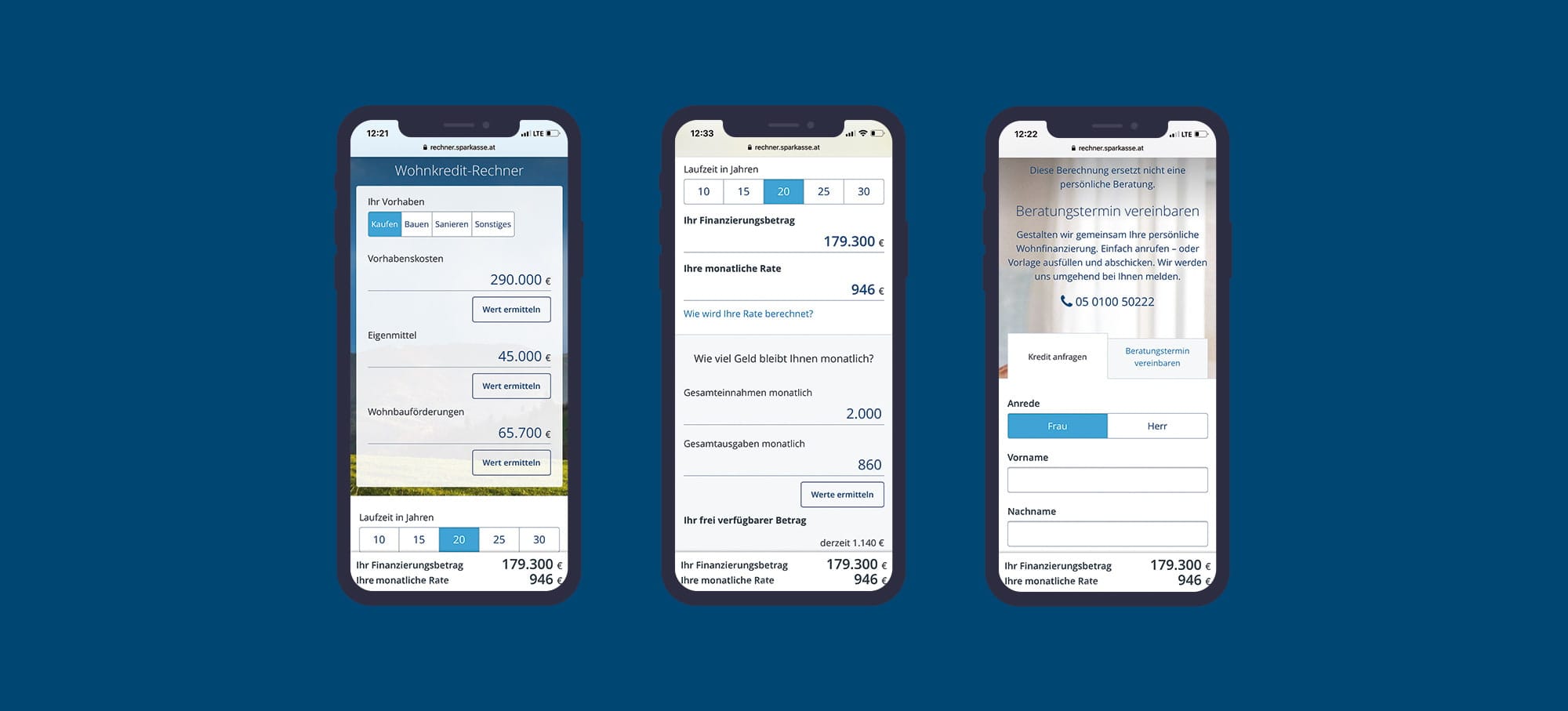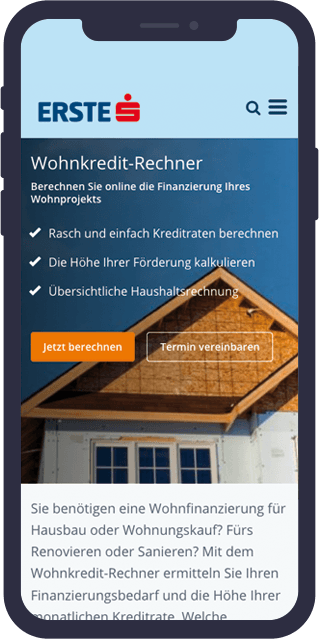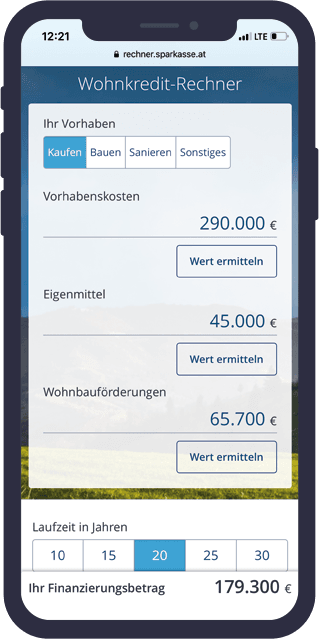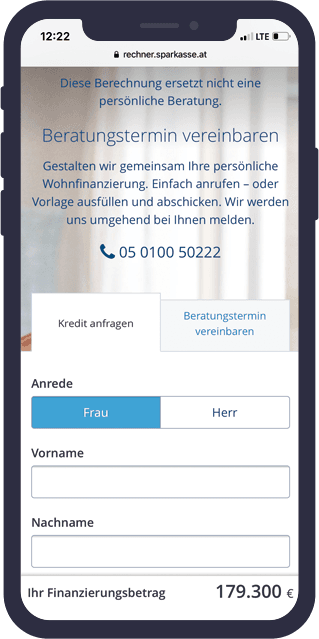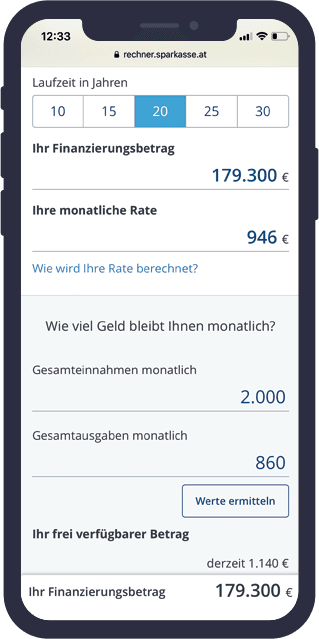 User-centric and agile implementation
Joint workshops form the basis for shared project understanding and thus for successful cooperation and project implementation.
The process therefore began with a comprehensive inception phase, which provided the basis for the conceptual design and whose findings continuously accompanied the project. Even beyond that, the process was continuously accompanied by workshops:
Persona workshops for the development and enrichment of typical customer profiles
Story workshops for the formulation of requirements in the form of user stories
Stakeholder workshops for ongoing coordination with a wide range of relevant project players as an essential factor for project success
The multidisciplinary, international team consisting of dmcgroup, s IT Solutions, Erste Bank and other offshore partners (responsible for development and testing) opted for an agile approach with daily stand-ups, 3-week sprints and regular retrospectives to improve the project flow.
This form of project culture emphasizes the personal, daily cooperation of all participants at eye level and was a decisive factor in the success of the project.
With user interviews on design decisions
After each sprint, "real users" of the product were interviewed: dmcgroup's user research team recruited test subjects for user interviews based on the known user profiles.
Continuous user interviews were used in the design and implementation process to test and validate hypotheses. The insights gained from the user interviews and software testing enabled the team to make better design decisions.
Clear interaction design that focuses on user goals
The following fundamental design principles were used in the design of the new home loan calculator to make the experience as intuitive as possible for users: